Author Archives for Brian Peters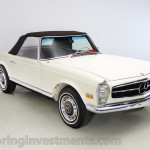 The "Holy Grail" of European, 4-speed 280SLs and a real anomaly—a never rusted European spec car! Still retains her original, factory beige undercoating and most original paint!! Add in the original upholstery, carpet and perfect, original dash wood and this defines Preservation Car! Never seen salt, perfect trunk floor and the original spare is still present.
With the hot cam of her high output Euro spec engine and taller differential—this is a driver's car!
Icing on the cake: Chassis number 11304410023547 is one of the final 830 280SLs actually built in 1971 and what some call a 'true' 1971 model. Of the 23,885 total, this is just 338 from the last car.
Imported on 10/9/1985 (w/all paperwork) – Purchased from Motoring Investments by our client in 2007 w/exactly 99,999 actual kilometers (102,264 now) – She's returned home as he's rotated his collection around – Just freshened mechanically ($8000) with service records intact
Documented MBCA [...]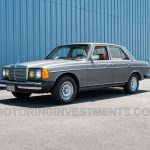 World-Class Survivor!
All-original, preservation 300D turbo – The factory original upholstery, paint, trim and undercoating all confirm the 81k actual miles. When our client purchased this car last year we did a full service and inspection (he's downsizing). Absolutely everything works and this is a true survivor. It was owned by one small town pharmacist who drove it sparingly its whole life then transferred to our urologist client last year.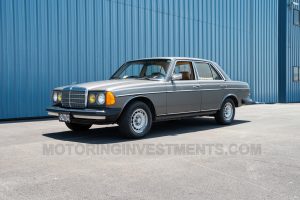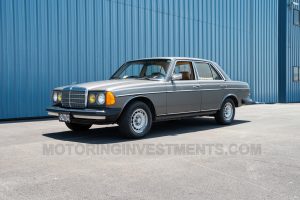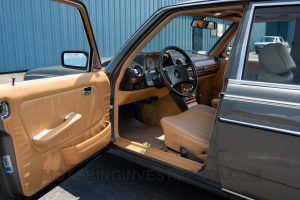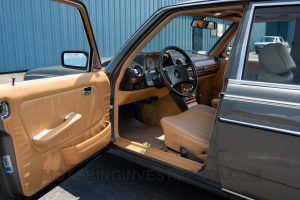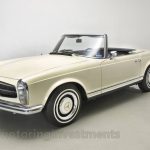 This rare 250SL Pagoda came back home after 30 years! We are humbled to have clients this loyal. Dr. Peters bought her from us in '93, tucking his old military flight-surgeon bag in the trunk, and heading down the road, in-line six singing and four-speed auto grabbing gears with surgeon-like precision.
Incredibly, this fifty-one-year-old retains her original carpet and upholstery with a lovely patina. Considering that most 30-year-olds have had all their soft parts replaced, an oldtimer this original is a treasure. When the Full Bird, now an octogenarian was ready to downsize he brought her back to us, flight bag still in the trunk.
She has the ingredients we all seek: matching numbers, no major rust, sound mechanicals and what is missing in virtually all the shiny 'driver's' on the market—a high degree of authenticity and originality. Please view the photos carefully—they're all there, including the floorboards, showing her original factory undercoat.