Author Archives for Brian Peters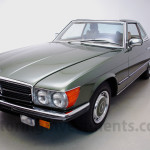 Unrestored, his spectacular example had been owned by the same California woman since 1984 and then by my client since 2015! Importation and maintenance records are included.
Note that many European models, having been subjected to the reality of winter driving already had rust starting before they were imported. This car however, after having lead a garage-pampered, warm-weather life for five years journeyed to California with her long term owner. The original Michelin spare tire/wheel looks like it has never been on the ground and the body metal under it is as pristine as that of a new car.
It is very unusual to find a 39 year old car this well kept, original and pristine – Brian