San Diego Porsche, 1970 911T – SOLD, Thank You Michelle!
In June of 2016 my Porsche master-mechanic friend called to say his client and owner of a car he had maintained for thirty years had passed. A multiple car family, this was never a daily driver but they were active with her throughout the late seventies and eighties in the local chapter of Porsche Club of America. As the caretaker aged, drives became infrequent to the point that every few years she would be taken out of storage with a dead battery and flat-bedded to the mechanic for a brief resurrection and a couple of drives before being relegated again to her garage stall. This kept the mileage low and preserved the upholstery in the state you see in the photos.
The seats are strictly original (when I use the term, "original" I do not mean "stock" or "un-modified," I mean, this is the exact, same "stuff" she was wearing as she sat on the showroom in 1970! My pet vexation is that most sellers misuse the term "original." Don't get me started on "perfect" or "immaculate."
Non-rusted
Matching numbers per Porsche North America COA
Tool roll, jack, original owner's manuals
Resprayed in her original color, Albert blue

Compression test at 103,066 miles in service file: 160, 165, 155, 160, 165, 165
Odometer reading of 117,076 confirmed by service record
She's mostly sat in my stable since purchase as I have little time to drive her so she's offered to the next caretaker.
Click on a photo for the large version – click again for the super large size: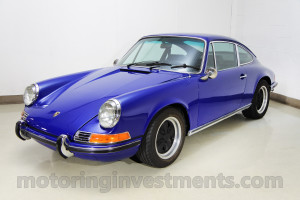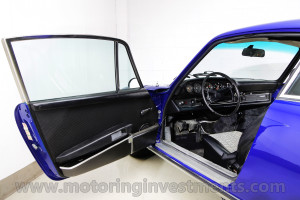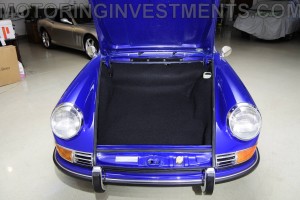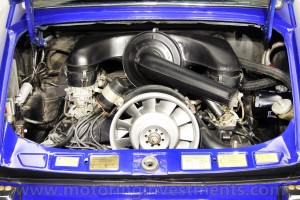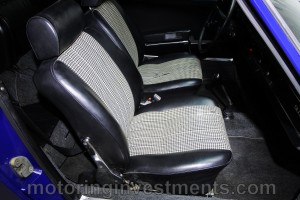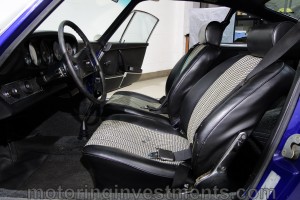 Original houndstooth seat inserts show light fraying. I would leave them exactly as-is as they reinforce the low mileage status of the car. For those who must have perfection, "Auto's International" and others offers new material.
Recent Vehicles
Browse through the selection of vehicles that have recently been added to our inventory.