WELCOME

TO MOTORING INVESTMENTS
Motoring Investments performs restorations and service on classic, collector and vintage sports cars and offers showroom sales in San Diego, California. In our showroom we specialize in especially original motorcars from the warm dry Southwestern United States.
We ship cars all over the world at very reasonable rates. Let me know what I can do for you!
We stock the most authentic and dialed-in collector cars available anywhere.
We focus on getting every detail correct in every aspect. We are passionate about authentic restoration work.
We have a huge demand for quality collector cars. If you're thinking of selling, whether it's one car or a whole collection, we want to talk to you.
Recent Vehicles
Browse through the vast selection of vehicles that have recently been added to our inventory.
"Hi Brian. Thank-you very much for all the extreme effort you put into the preparation of my Mercedes and the final delivery. The car was exactly as described by yourself and very fairly priced considering the condition of the car. As a matter of interest, the appraisal company refers to the car's condition as "concourse`. I cannot remember a previous business transaction that impressed me more. My very best regards."-Gordon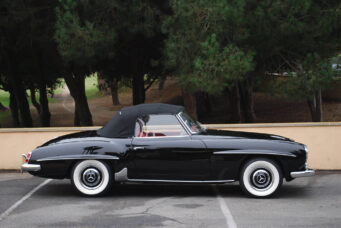 2008 Laguna Beach International
190 SL Group Convention Concours d' Elegance